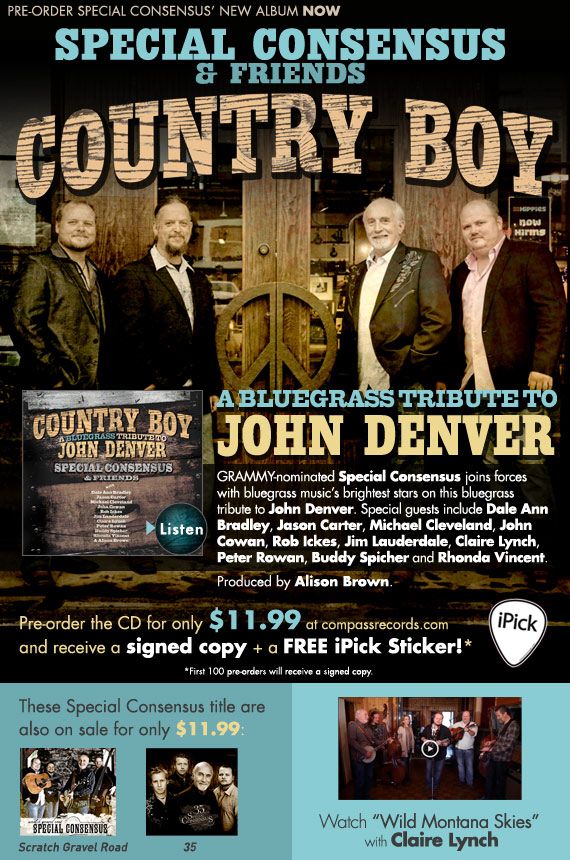 Country boy: a bluegrass tribute to John Denver
is scheduled for release on 25 March 2014, and is produced by Compass Records co-founder
Alison Brown
, who plays banjo on one track along with Special C. leader
Greg Cahill
. Other guest artists include
Dale Ann Bradley, Jason Carter, Mike Cleveland, John Cowan, Rob Ickes, Jim Lauderdale, Claire Lynch, Peter Rowan, Buddy Spicher
, and
Rhonda Vincent
. More details are in an article by
John Lawless
on
Bluegrass Today
, including Greg Cahill's account of how the project was conceived, and a video of one of the numbers in performance.
Special Consensus
, who regularly and frequently tour in Europe (most recently in November 2013), maintain a busy year-round touring schedule, reaching an eclectic demographic through appearances at festivals, listening rooms, bluegrass-in-the-schools programmes, and symphony appearances. Their 2012 release
Scratch Gravel Road
achieved a Grammy-nomination for Best Bluegrass Album.
Country boy: a bluegrass tribute to John Denver
can be
pre-ordered from Compass
; the first 100 pre-orders will receive a signed copy.